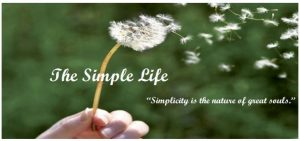 Mehmet Murat Ildan "live a simple life; you will own the most beautiful treasures of the world
Most people do things and come up with the conclusion that life is complicated. We've sometimes felt and even accept the fact that we live a complicated life. I'm here to let you know that life can be simpler than we imagine if we just have a simple and pretty lifestyle.
But if you choose to complicate your life, be ready to pay the price in a complicated way too. We all know things can be difficult, but it's our responsibility to handle it simply. Let's look at an example of how someone can complicate his/her life and possibly another person's life.
Confucius "Life is really simple, but we insist on making it complicated"
Angela is a very beautiful young girl who is ripe for marriage. Because of the self-imposed consciousness of "I know my worth" she bought a diary and wrote on it all the requirements she needs for a man before she can consider him to be her life partner.
Believe me, the requirements need you to tend towards perfection before you can be that so-called lucky man to win her heart. Angela may spend a lot of time searching for a guy that will meet those traits in her diary. Isn't she making things difficult for herself?
Luckily for her, she found a man that possess all the characters in her diary.
Now Angela is very happy and goes around telling people of her new formula of how to get the man of your dreams and even wrote a book on it. The fact that it worked for her does not make her method justified.
According to Russel, "it is very easy to give examples of true beliefs that are not knowledge"
There is the man who looks at a clock that is not working, though he thinks it is. He happens to look at it the moment when it is right. This man acquires a true belief as to the time of the day, but cannot be said to have knowledge. Though, he is also justified because the standard instrument for measuring time justifies the time of the day.
"justified belief can be false. In a piece of reasoning, false justified belief can support conclusions that are only true by coincidence"
Vivian, another young lady went to Angela for advice, she advised Vivian based on her theory. Vivian applied the theory and wrote the characters she needed. Till now, Vivian is still searching, making it up to 5 years now. So Vivian has succeeded in complicating her life with the aid of Angela's advice.
Ritu Ghatourey "lead a simple life. First, reduce your greeds. Then reduce your needs."
In similar ways, we humans have either complicated simple and even difficult things for ourselves. See how people complicate things for themselves.
Doris Janzen Longacre "The trouble with simple living is that, though it can be joyful, rich, and creative, it isn't simple.
Prettylifestylez.com addresses different areas of life, making you see the simplicity in things and allow you to have a pretty lifestyle and live a simple life you'll be proud of. Sit down, relax, we're going for a ride.
Kindly share to family and friends and leave your comments below.
Related posts
Life Happens Irrespective of How You Feel
10 Dreadful Dangers Of Assumptions That Can Destroy Your Life
10 SIMPLE WAYS TO TAKE IMMEDIATE CONTROL OF YOUR LIFE
HOW TO PREPARE FOR YOUR FUTURE