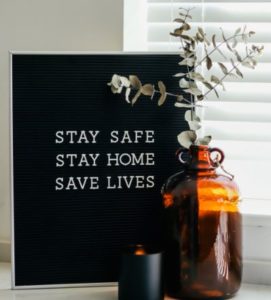 Hi guys. Hope you'll are enjoying the lockdown.
If you're not, I plead you start looking for ways to enjoy it because we might be at home for a very long time.
Just yesterday, President Muhammadu Buhari extended the lockdown by 14 days. Happy quarantine.
With poverty and hunger in the land, it came with angry reactions. However, deep down we all know it was the right decision to take.
No president will expose its citizens to the risk of contracting COVID-19.
One thing is certain, that is; we are all going to be indoors. Would you rather complain about a situation you cannot change or key into the benefits that can be gotten from the lockdown?
If the latter is the case, you're in the right place.
Note: Assumptions made as you read along
1.Covid-19 just like every pandemic will come and go.
2.Corona virus is not linked to 5g.
3.Covid-19 is not 666.
Keeping that in mind, you are free to read along.
3 Unknown benefits of corona virus lockdown
Gives opportunity for families to reunite
I won't be wrong if I say some families in Nigeria are as divided as water and oil mixture.
Going to work very early and coming back very late has not been helping issues either. Not to mention children who hardly ever see their parents.
Due to this lockdown, families get to live together 24/7 which give them room to get to understand each other better.
I feel this is the greatest benefit all families should be proud of.
See how to show your family how important they are
Gives you an opportunity to become part of the best market (i.e online market)
Like I always say, the world is changing. If you are not changing with it, then that's a problem.
Things are different these days. Online work is taking over virtually anything you can think about.
Just in case you don't know, in spite of this present pandemic; bloggers are still earning, affiliate marketers are still earning, people that offer other services online are still making cool cash. What are you waiting for? Pick an online skill(s) and develop yourself.
See the 8 latest ways you can make money through WhatsApp
Gives you an opportunity to reflect on your life
Due to the nature of some people's work, it has prevented them from having time to completely analyze their life so as to know where they are falling behind and areas they need to improve.
We all know it's good to learn new things, unlearn things and relearn.
This is the perfect time you'll have to do all that. I hope it will help you understand yourself better.
see 10 practical ways you can effectively manage your time wisely
These are the benefits that i think will should embrace. If you believe everything happens for a reason, it's better you find that reason and take positives from whatever situation you find yourself.
Spoiler alert: If this pandemic comes to an end, the world will start moving at a fast pace be sure to have learn new things so you can cope.
Do you want to be on the side of "I wish I knew" or the side of "every moment was worth it"? The choice is yours.
Thanks for your time. I'll really appreciate your comment and shares as this will go a long way to put a smile on my face and also encourage me.
Other powerful articles
Boost your productivity with this 6 unique productivity booster
4 important time management skills that will improve your productivity