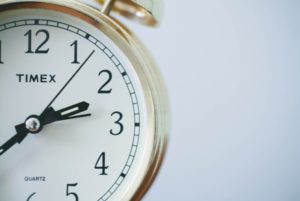 Time Management
Time Management involves productivity, organizing and planning how to divide your time between specific activities. Good time management enables you to work smarter, not harder. This helps one get more done in less time, even when time is tight and pressures are high.
However, we can't exactly apply the principles of time management if we are not properly equipped with certain important time management skills.
Recommended: 5 Highly  Effective Time Management Principles
What are Time Management Skills?
It is the numerous techniques and skills that can help a person to make good use of the available time in the most efficient way. Those skills that enable us to properly choose your sequence and succession of an event by ourselves within a certain period.
Why Time Management Skills are important?
Time management skills are important because they help you structure your work in a way that allows you to accomplish goals. They also enable you to do more things with less effort and in less time.
4 Important Time Management Skills
Organisational skills have to do with properly putting things in a well-arranged manner. Organizing could involve putting things in place or properly outlining one's activities for the day.
In addition to that, organizing each day helps you to complete work on time, stay engaged during important meetings and give you space to be creative and proactive in your tasks. When you are organized you would be able to work more efficiently. It is said that super achievers are totally super-organized.
The ability to think about and successfully manage activities with the help of any available resources to achieve specific goals is known as one's planning skills.
Planing not only involves outlining one's activities for the day but properly putting them in order as well as putting down the manner in which they would be carried out. It is basically a roadmap that guides us on how to complete a task before attempting to begin it.
Prioritization is a key skill that you need to make the best use of your own efforts. Also, it helps you allocate your time where it's most needed.
Managing time also simply means to spend time on priorities and not to waste time on non-priorities. prioritizing your goals enables you to minimize stress, boost productivity, and save time for the most important things.
must read: Misplaced priorities dangers: 10 lethal dangers of misplaced priorities
Goal setting and time management go hand in hand. Setting goals provides direction. By setting goals,  you would be able to know where the bulk of your time each day should be focused.
You would be able to prioritize your workload based on your goals and manage your time better while you are at work. So at the end of the day, it enables you to meet deadlines, manages distractions and avoids wasted time.
See also: 5 Types Of Goals To Help Take Your Life To The Right Direction
Conclusion
 Don't be fooled by the calendar. There are only as many days in the year as you make use of. One man gets only a week's value out of a year while another man gets a full year's value out of a week. Charles Richards
 Kindly share and leave your comments below
Related posts
5 Highly  Effective Time Management Principles
10 Practical Ways to Effectively Manage Your Time wisely
Always remember,