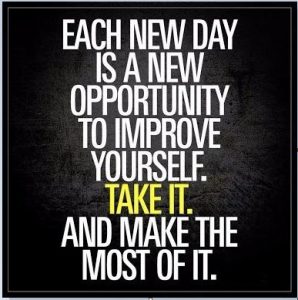 Becoming the best version of yourself is something everyone should strive toward. We all have untapped potentials beyond what we can comprehend. In order for us to grow into something better which will enable us to stay at the top, we need to utilize our untapped potentials.
The efficiency of a car is not determined by how the car looks in the exterior. A car would still function even when the side mirrors are broken and the outside begins to rust. But no matter how expensive a car maybe, when the engine lacks oil it will breakdown. The engine is not seen outside the car, yet it controls the car and causes a visible motion in the car which is varied by the gear.
What makes you superior in life is not in your exterior but your interior
This same principle applies to us. Your interior is very important to you because it carries the picture of your future. This picture is not to make you inferior but that in your exterior you may become superior. You are a spirit, you live in a body and have a soul. Your body, like the casing in telephones, is just a covering and as such does not determine your beauty or quality
But remember,
looking good is good business
It only becomes detrimental when all your efforts and resources are channelled towards making your body attractive. Your appearance attracts attention but it is what you carry inside of you that determines your position in destiny, which help you turn out a better person.
Isaac Inegbenehi will normally say
you don't really matter because you are a matter, what makes you matter is your mental capacity to handle matters that really matter
7 WAYS TO BECOMING THE BEST VERSION OF YOURSELF
1.          READ A BOOK EVERY DAY:
Dr Seuss
the more that you read, the more things you will know. The more that you learn, the more places you will go
Spend time to read, it is the foundation of knowledge. Your knowing varies directly as your growing. What you know today as a teen or youth tells who will know you tomorrow as an adult or elder.
The more books you read, the more wisdom you are exposed to. What you don't know is always superior to you. Take time to learn new things every day. Buy books and study them. It is a good investment in your personality. It is also imperative that you are mindful of the kind of books you always study.
There is no friend so faithful as a good book. There is no worse robber than a bad book
Study the books that inspire and reveal the desirable qualities in you. Take your courses seriously, don't be ignorant of the things you are expected to know. To lead you must read. So to avoid abuse of power, read today and get inspired so you can be the best version of yourself.
2.          WORK THINGS OUT:
Ze Frank
having someone do certain things for you is like getting someone to chew your food for you. It might be easier to swallow but it loses all its flavour and you want the flavour
In life, some will succeed and some will suck seeds. You don't just sit down and experience success, you work it out. The earlier you get out of your comfort zone as a young person, the better for you. Have the mindset of whatsoever things that are good do not come easily.
The best things in life do not happen until they are made to happen. You don't get orange juice until you subject orange to pressure. The problems with young people are that they don't want to make things happen, rather they want to see things happen. They forget the fact that nothing works out until they are worked out.
The more u sleep, the more your natural abilities slumber; the more you rest, the more your inside begins to rust; the more you relax the more your destiny begins to collapse
Don't allow laziness to take the best out of your life. Begin to work things out so you can be the best version of yourself.
3.          DREAM EVEN WHEN AWAKE:
Sindhu
your dreams are what define your individuality. They have the power to give you wings and make you fly high
To dream means to have senses of images, events, and feelings that happen in your mind. It is to imagine and think about something that you would love to happen. Dreams are one of the greatest forces that provokes the "you" in you.
When the dreams you have for your life become matured enough, you start seeing possibilities. No matter the negative situation around your life, if you can still dream you can still hope. It is better for a man to die than to live without dreams. Always picture positive things you want to see in your life.
The magnitude and direction of your dream determine whether you will be the head or the led. Dreams in your interior always reflect at your exterior. Have a dream of you being the best version of yourself
Must read: Why Low Expectations Are good
4.          YOUR ASSOCIATION MATTERS IN BECOMING THE BEST VERSION OF YOURSELF
Hodge
what surrounds us is what is within us
One of the most important things in life is relationships. You will agree with me that everything in this world is meant to relate. It is dangerous to continue living in isolation. Association with people around you is quite cool, it can determine your direction.
Your friends determine your trend. As you make friends, understand there are bound to be negative people wherever you go. Don't spend too much of your time around them because bad communication corrupts good manners.
Recommended: 10 TREASURED QUALITIES OF A GOOD FRIEND
WHO IS A GOOD FRIEND?
5.          BE MINDFUL OF WHAT YOU SEE, HEAR AND READ:
Charles R. Swindoll
the secret of living a life of excellence is merely a matter of thinking thoughts of excellence. Really, it's a matter of programming our minds with the kind of information that will set us free
How you prepare for your future is determined by the friends you keep, the books you read and the songs/information you hear and it reveals what you will become tomorrow. Unconscious forces drive us into wanting to do certain things. What you allow your mind to dwell on depicts your action.
If you can control your mind, you can control your life. For you to control your mind, you should first be mindful of the information that enters your head. Allow what you want your mind to think always enter your head from the external environment.
Your inside is like the central processing unit (CPU) in a computer. It accepts the information you receive by what you see, the things you always hear and your favourite books. It then acts on the information to shape your life. This information begins to process and come out as output to determine your future.
The information you have in life is what always determines your formation in destiny. You become what you always think
I think; therefore, I am
Your mind is extremely valuable, keep it with all diligence because it is the essence of who you are. Your dreams, desires, and passion dwell in your minds. When your mind is linked with purpose, there is an intelligent accomplishment. Your character is the sum total of all your thought.
6.          KNOW THYSELF:
Socrates
an unexamined life is not worth living
For you to know yourself, you must first of all be yourself. You can't discover yourself if you are still carried away by what others carry. Try to discover yourself and know what you carry. If you can dig further, you will see something precious inside of you. Know your strengths and your weaknesses too.
What others see in you may be a fact, but what you see in yourself is what really counts. Don't do things to impress people, if you know it will be detrimental to your destiny. Let people know that you are more than what they think you are. Always tell yourself the truth because it is what determines your fruit and freedom in this world.
Understanding your personality makes you a principality. Know thyself
7.          BELIEVE YOU CAN BECOME THE BEST VERSION OF YOURSELF:
Joybell C.
The only person who can pull me down is myself, and I'm not going to let myself pull me down anymore
It is one thing to know thyself, but it is another thing to believe in thy abilities. It is high time you had a positive view of your abilities. Your faith determines your flight just as your decree determines your degree. Forget the fears that you are not capable, never be afraid to try new things because you are doubting your abilities.
That you failed before does not mean that you would not succeed if you try again. You are not a failure, so take away the lack of self-confidence. Do what you think you cannot do. The best way to handle fear is by doing what you fear most. You can be the best student in your class if you can believe in your abilities and improve your personality by investment. Believe you can become the best version of yourself
Kindly share to family and friends and leave a comment below.
Related Posts
10 SIMPLE WAYS TO TAKE IMMEDIATE CONTROL OF YOUR LIFE
8 simple yet effectual ways to stop worrying
3 Breath-Taking Elementary Steps To A Lasting Change
How To Achieve Your New Year Resolution In 2020