In the quest for personal development and self-growth, we often emphasize on other areas of our life, leaving out the most important part of our body "the brain".
The brain is one of the organs in the human body. Though it's not the largest, it's the central organ. It is responsible for the coordination of all parts of the human body.
It controls most of the activities of the body be it processing, integrating, and coordinating the information it receives from the sense organs and making decisions as to the instructions sent to the rest of the body.
So, Even as you step out to the gym to train your muscles to keep fit, or you visit your physician to make sure your health is intact, it is also advisable to train your brain daily so it doesn't dwindle.
Lack of this proper training is what is responsible for brains that are not sharpened, poor mental performance, and loss of memory as we age. This is not supposed to be the case, the human brain is supposed to keep improving as will age. Read along, I'll explain what I mean by that.
According to the great philosopher, John Locke:
Man at birth is at a state of tabula rasa
In short, a man at birth knows nothing. As we grow, we continually learn at a very fast rate between infant and teenage age. The knowledge acquired during this period is very much and it shows in how sharp our brain is at that time.
A stage comes where we don't learn new things compared to what we do before. An accountant will sit down all day repeating the same task for years, same goes with a lot of other professions. As the learning process reduces, the sharpness of the brain reduces too. They have a direct relationship.
This has made humans have a curve where they know nothing to where their brains are better off (not even close to its peak), back to the know-nothing stage. only a few have had a straight line curve between age and a sharp brain. If you ever take your time to study them, you'll find out they improved their knowledge every day of their life till they eventually kicked the bucket.
Some numerous changes and habits can be cultivated that will make your brain work better. However, we'll be looking at just 6 so we don't bore you with an unnecessarily long article
6 Simple Changes That Will Make Your Brain Work Better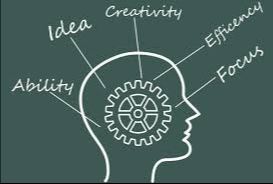 Let's take a look at the simple changes that will make the brain work better:
Eat a brain-boosting diet
Any balanced diet is good for the body or brain. However, if you wish to boost your brain better, I'll advise you to take more fish, fruits and vegetables. Also, dark chocolates goes a long way in boosting one's brain.
Commit to a physical exercise
As well as helping your physique by keeping you fit, physical exercise also keeps the brain healthy.  It increases oxygen to your brain and reduces the risk for disorders that lead to memory loss, such as diabetes and cardiovascular disease.
However, exercises should be moderate. It's not a punishment. Except you are training hard for a competition (sports), I'll advise that 20mins of exercise is ok for the day
Avoid stress
Try as much as possible to stay away from things, situation, people, an occasion that will stress you.
Stress can come from inadequate sleep too. The brain is also meant to rest, and it does that when you rest. Quit stressing your brain. instead, you work, then give it time to rest and then resume. It will be more effective that way.
Spend time with loved ones
Spending time with loved ones often reduces the stress on the brain. When you are relaxed, joyful, and happy, the brain tends to be on its best behaviour too.
It's even a form of rest for the brain as I explained earlier. Whenever you have a chance to spend quality time with a loved one, even if your body is not willing; for the love of the brain, don't miss such an opportunity.
Talking with others and engaging with your loved ones helps you think more clearly, and it can also lift your mood. This will help reenergize the brain.
Clear the mind
Spending time with loved ones is one of the ways you can clear your mind. Other ways you can go about this, is to exempt your self from any mental activity for a particular time.
Like taking a stroll in the neighbourhood, going to the cinemas etc.
Continually learn something new
The world is dynamic, why be any different?
Continually repeating one task or event doesn't give the right boost required for your brain to get better with age. Seize any knowledge you come across. If you don't come across any, seek them. Be mentally active. As usual; even if you are active, always take a little break to relax the brain. it's an organ, it needs rest too
Watch this powerful video that will reveal to you how far your brain can grow even as you age
Even as we go about training the brain, it's important to know how the brain works. By this I mean, one has to know the right path to take to make sure the brain retains the right and important pieces of information.
How to make the human brain Remember more
The human brain remembers more when:
Thinking in pictures and colours.
Making connections between ideas.
Creating association with existing knowledge and information.
Categorizing information into groups, chunks and related segment.
visiting Prettylifestylez daily
Summary
In as much as most humans tend to lose their brain sharpness as they age, doesn't make the declining path the brain takes with age right. There lots of ways we can retain this sharpness. Examples are eating healthy foods (most importantly fish, fruit and vegetable); exercising regularly and moderately, avoiding stress, relaxing the mind, learning something new etc.
I also gave a few hints on how to make the brain work best. They include; thinking in pictures and colours, making a connection with an existing idea, visiting this blog daily etc.
Kindly leave your questions, contribution below ( I'll like to learn from you too) and also share to friends
For other personal development articles, click me
Related posts
8 simple yet effectual ways to stop worrying
how to make someone feel important to you
5 Types Of Goals To Help Take Your Life To The Right Direction
References
helpguide: How to Improve Your Memory
lifehack: 8 Ways to Train Your Brain to Learn Faster and Remember More
inc: 6 Simple Changes That Will Make Your Brain Work Better
Always remember,