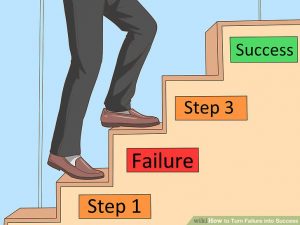 Today we'll be taking a look at success and failure if indeed failure is a step or prerequisite to all success stories.
"Failure isn't fatal, but failure to change might be" – John Wooden
Many have argued for and against it and like various forms of argument, it is bound to remain an argument.
Defining Failure as related to what we're pondering on is a lack of success in doing or achieving something. It can also be defined as a person or thing that is not successful. However, success is the opposite.
"Success is stumbling from failure to failure with no loss of enthusiasm." – Winston Churchill
There's arguably anyone who hasn't failed in one area of his/her life on another. This usually comes in many forms be it a break down in a contract, a collapse in business, a decline in ability, a misstep in strategy etc. which normally leads to frustration.
As bad as failure or failing goes, it gets worse when one is been called names like disappointment, good for nothing, incompetent, an underachiever and the worst of all loser, reasons being that it affects one's self-esteem.
However, taking the positives out of failure is key to keep pressing on till you achieve that which you so much desire.
"Failure should be our teacher, not our undertaker. Failure is a delay, not defeat. It is a temporary detour, not a dead end. Failure is something we can avoid only by saying nothing, doing nothing, and being nothing." – Denis Waitley
Are there positives in failure? We would find out soon enough
5 reasons why failure is a step to success
The fact that failure is good for success doesn't mean that having a perfect successful story i.e one filled with profit, progress, victory and win is any bad. However, we want to look at the positives gotten from failure so it will also end up as a success story.
"It's failure that gives you the proper perspective on success." – Ellen DeGeneres
It gives room for improvement
Let's look at it from a competition point of view. If it's one that requires a winner from thousands of competitors, winning it will not be an easy one. Working hard enough for the ultimate crown, and still end up losing it will make you want to work harder the next time the competition holds which is motivation in itself. And if you know all the areas you missed it the previous time, success would be closer than you imagined.
a reporter asked Thomas Edison "how did it feel to fail 1,000 times"
he responded "the light bulb was an invention with 1,000 steps"
This is the mindset that we should all cultivate
It gives experience
The quickest road to success is to possess an attitude toward failure of "no fear" – Heath
That which we all call experience e.g he or she is an experienced fashion designer, sportsman etc. all came into fruition due to several failures on the way which made them better in that which they do. It is argued that most people focus so much on not failing that they do not focus on success.
There are a lot of grey areas between them, so the fact that you are not failing doesn't make you a success. That's the case of people who are just scared of taking the risk and don't want the tag of a failure or born loser to be attributed to them.
Try studying the successful people before you and you'll find out that they failed several times before they became a success story which proves that success is indeed life's greatest teacher.
"if you solve a mathematical problem 100 times without getting the answer, you've not failed. You just found 100 ways that question cannot be solved" – saint
It builds resilience
Picture the first time you failed and the fifth time you failed in something, was the reaction the same? I'm expecting a big NO, reasons being that you were no longer new to failure which makes the recovery time shorter and made you move on easily. Resilience is a gift which often comes from failing. It makes you a risk taker which is key to being successful.
I've not said failure become sweet with time (lol)
"Only those who dare to fail greatly can ever achieve greatly" – Robert F. Kennedy
It gets rid of fear
Most of the things we fear in our lives are interlinked with failure. The fear of failure normally holds us back from aiming high, dreaming big etc. It makes us take the easy way out and always remain in mediocrity which takes us nowhere near success. Failing a couple of times normally drive away such fear.
"You build on failure. You use it as a stepping stone. Close the door on the past. You don't try to forget the mistakes, but you don't dwell on it. You don't let it have any of your energy, or any of your time, or any of your space." – Johnny Cash
It is an opportunity
Like I said earlier, their positives to draw from failure, failure makes you draw positives, which gives you an opportunity to do better. Instead of focusing on the failure, dwell on all the positives. This makes you a confident person.
"Giving up is the only sure way to fail." – Gena Showalter
Would love to hear you air your view on this. Is failure indeed a stepping stone to success, or failure is a failure in itself
related topics
Life Happens Irrespective of How You Feel
12 Strong Reasons Why People Don't Set Goals
How To Achieve Your New Year Resolution In 2020