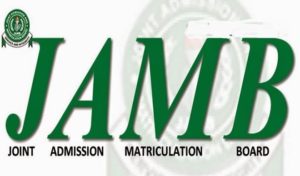 Hi guys. Welcome to the latest Jamb news.
If you've been searching for
jamb change of institution 2020 closing date,
jamb change of course 2020 closing date,
jamb change of institution 2020/2021,
when is change of institution closing,
jamb change of course 2020/2021 closing date,
change of institution not reflecting,
jamb change of institution 2020,
how to reprint jamb change of institution slip,
then this article is for you.
Amid the whole corona virus issue, jamb don't seem like they want to stop any of their yearly routines.
Jamb Change Of Course/Institution Has Started: You may be wondering, when is the best time for 2020 Jamb Change of Institution and how do I apply for Jamb change of course? What are the requirements for Jamb 2020 change of course and School? This is what we shall discuss today.
You may want to click here for the reasons you should (or shouldn't) do a change of course/institution. Continue reading for how to do Jamb 2020 change of course and institution.
Change of course and institution now continues from now to when Jamb starts stops admission. In fact, some candidates were asked to do a change of institution by Jamb even after being offered admission. You may want to learn more about that here.
Change Of Course And School For Jamb 2020
The Joint Admissions and Matriculation Board allows change of Institution/Courses, Name, Gender, state/lga of Origin and Date Of Birth. If you made mistakes in any of the above details during Jamb registration, then the floor is open for you to start correcting them.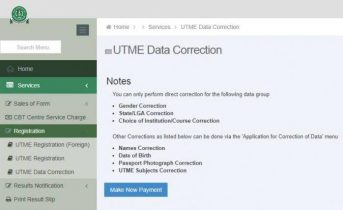 How To Do Jamb Change Of Institution/Course
Visit Jamb portal by clicking here
Enter your username and password
Login to your jamb profile
After you have logged in, you will see correction of data at the left sidebar. For phone users, you will need to click the menu to access Correction of data. See arrow in the image above to locate menu.
Click on correction of data.
Under correction of data, you will see course/institution, names, date of birth, gender and LGA. Click on the one you want to change or correct.
You will be taken to payment portal
Click on pay and continue to payment.
Follow the steps to pay either online with remitta or bank. You can make your payment online via JAMB portal. If you are having difficulties doing that, you can pay to the bank. You need ATM Card to pay online via remita
Fill the form you are given to fill, follow what you are told and JAMB will now process your application. If Approved, your details will be changed as requested.
Related Searches to Jamb Change of Institution:
When is Jamb change of course starting?
When will Jamb begin Change of institution for 2020/2021?
Jamb change of course 2020/2021
is Jamb change of institution still on sale?
2020 Jamb change of institution
Jamb change of course 2020 closing date
Change of institution closing date for 2020
Can I do change of institution after the deadline?
Read Also: How to print out Jamb admission letter
Kindly share and leave your comments below
Related post
Top universities in Nigeria that does not require you sitting for Jamb
Gain admission without sitting for jamb
Jamb CBT expo: Why you must desist from anybody offering you jamb expo
jamb 2020 result- jamb utme result checker