Life happens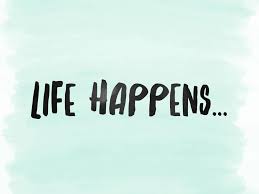 Ain't it amazing yet strange the life we lead? In the world we live in today, there are about 7.5billion people and still counting. yet somehow, life has found and presented more than 7.5billion scenarios to put us all in.
While some are born with silver, golden or diamond plated spoons, others come from a middle class, poor or the poorest families or countries in the world. however, life presents endless possibilities to everyone irrespective of their background to make the most of themselves. this helps us to understand the widely used adage
"It doesn't matter how you were born, what matters is the decision you make when it matters most"
It begs to wonder how people from some of the poorest backgrounds rose to positions of great wealth and affluence. at the same time, people from affluence take a dive for rock bottom. this should open our eyes to see that while there isn't a map or guide to success in life, life presents us opportunities that could give us our big break.
While some take the opportunities irrespective of past failures or feelings and face the challenges head-on, others let the opportunity for greatness disguised as challenges defeat them due to past failures or fear of future failure and as such never get ahead or make a difference in life, leaving them stuck in the rat race.
when you don't take control of things, life happens
Who are you? what are you? do you feel life has beaten you? are you confused about what to do? have you studied hard, tried but it doesn't or never works out? whatever your case might be, what matters is what you see when you face challenges. it's a new year and life has started dishing out great opportunities in disguise has problems. will you back down and let how you feel discourage you or will you face life headstrong with the mindset to win irrespective of what life brings your way?
Remember all it takes is one step at a time in a direction that counts. like a friend of mine will always say "progress is progress, no matter how little"

Don't forget to show us, love, by leaving your comments below and sharing
related:
10 SIMPLE WAYS TO TAKE IMMEDIATE CONTROL OF YOUR LIFE
HOW TO PREPARE FOR YOUR FUTURE
How To Achieve Your New Year Resolution In 2020