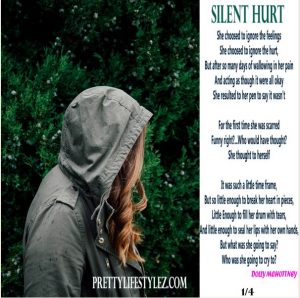 Silent hurt
She choosed to ignore the feelings
She choosed to ignore the hurt
But after so many days of wallowing in her pain
And acting as though it were all okay
She resulted to her pen to say it wasn't
For the first time she was scarred
Funny right? Who would have thought?
She thought to herself
It was such a little time frame,
But so little enough to break her heart in pieces
Little Enough to fill her drum with tears
And little enough to seal her lips with her own hands
But what was she going to say?
Who was she going to cry to?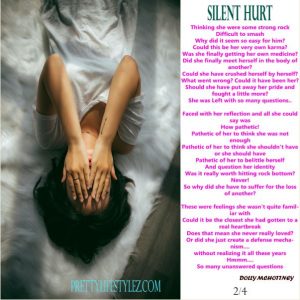 Thinking she were some strong rock
Difficult to smash
Why did it seem so easy for him?
Could this be her very own karma?
Was she finally getting her own medicine?
Did she finally meet herself in the body of another?
Could she have crushed herself by herself?
What went wrong? Could it have been her?
Should she have put away her pride and fought a little more?
She was Left with so many questions..
Faced with her reflection and all she could say was
How pathetic!
Pathetic of her to think she was not enough
Pathetic of her to think she shouldn't have or she should have
Pathetic of her to belittle herself
And question her identity
Was it really worth hitting rock bottom? Never!
So why did she have to suffer for the loss of another?
These were feelings she wasn't quite familiar with
Could it be the closest she had gotten to a real heartbreak
Does that mean she never really loved?
Or did she just create a defense mechanism….
without realizing it all these years
Hmmm….
So many unanswered questions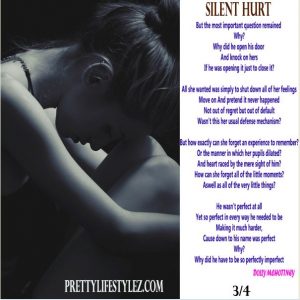 But the most important question remained
Why?
Why did he open his door
And knock on hers
If he was opening it just to close it?
All she wanted was simply to shut down all of her feelings
Move on And pretend it never happened
Not out of regret but out of default
Wasn't this her usual defense mechanism?
But how exactly can she forget an experience to remember?
Or the manner in which her pupils dilated?
And heart raced by the mere sight of him?
How can she forget all of the little moments?
Aswell as all of the very little things?
He wasn't perfect at all
Yet so perfect in every way he needed to be
Making it much harder,
Cause down to his name was perfect
Why?
Why did he have to be so perfectly imperfect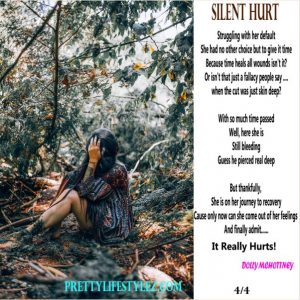 Struggling with her default
She had no other choice but to give it time
Because time heals all wounds isn't it?
Or isn't that just a fallacy people say when the cut was just skin deep?
With so much time passed
Well, here she is
Still bleeding
Guess he pierced real deep
But thankfully,
She is on her journey to recovery
Cause only now can she come out of her feelings
And finally admit……
It Really Hurts!