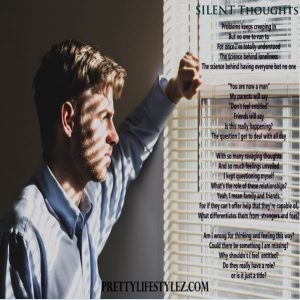 Silent thoughts
Problems keep creeping in
But no one to run to
For once I've totally understood
The science behind loneliness
The science behind having everyone but no one
"You are now a man"
My parents will say
"Don't feel entitled"
Friends will say
Is this really happening?
The question I get to deal with all day.
With so many ravaging thoughts
And so many feelings unveiled
I kept questioning myself
What's the role of these relationships?
Yeah, I mean family and friends
For if they can't offer help that they're capable of,
What differentiates them from strangers and foes?
Am I wrong for thinking and feeling this way?
Could there be something I am missing?
Why shouldn't I feel entitled?
Do they really have a role?
Or is it just a title?
Must read poetry