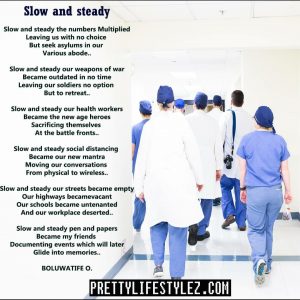 Slow and steady
Slow and steady the numbers Multiplied
Leaving us with no choice
But seek asylums in our
Various abode..
Slow and steady our weapons of war
Became outdated in no time
Leaving our soldiers no option
But to retreat..
Slow and steady our health workers
Became the new age heroes
Sacrificing themselves
At the battle fronts..
Slow and steady social distancing
Became our new mantra
Moving our conversations
From physical to wireless..
Slow and steady our streets became empty
Our highways became vacant
Our schools became untenanted
And our workplace deserted..
Slow and steady pen and papers
Became my friends
Documenting events which will later
Glide into memories..
BOLUWATIFE O.
Related poetry