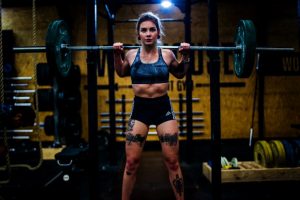 Progressive overload for fitness
My guys and girls. Welcome to progressive overload segment. In this course I'm basically going to go over what progressive overload is and how you should be implementing it into your workouts; whether they be at the gym or at home in order for you to see improvements whether that be on strength, getting more toned, increasing muscle size or whatever it may be so it can benefit you the most way possible or most efficient way possible.
Let's get straight into it. So when you are trying to create the most effective workout routine possible, your goal is to use your frequency, your schedule, the intensity, the volume and obviously your exercise selection as the optimal tool possible so you can achieve your goal.
And if you do that correctly you're pretty much guaranteed to get the best result you can, Right? Well, that would be true but unless of course if you happen to miss one important component of that which matters the most which is progressive overload.
Progressive overload is absolutely key for a successful workout program and I'm going to tell you why. When you go into the gym, whether you're working at home or at the gym, your body's goal is to keep you alive.
Its main goal is to keep you alive, keep you functioning in the most beneficial and efficient way it can and that goes by the means of whatever it can do to keep you alive. Your body only knows how to; like I said keep your alive, keep you functioning.
It is vital that when you're training and working out to try and lose fat or build muscle that you apply progressive overload into your workouts because otherwise it will just stay in its comfort zone and you'll never see improvements.
You'll just be consistently, casually working out; actually going by not really improving, not really lifting more weight, not really losing the fat you wanted to lose etc. So the only way your body will change is by you creating an environment that will prove to your body that these changes and improvements must be made.
Another way to put it is your body will not change or improve unless you force it to. No matter how perfect-like your workout is, the muscle will not be built. Strength won't be gained.
Your performance won't be enhanced unless you show your body that these are things that need to happen in order for it to survive.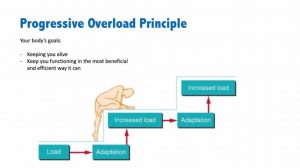 So here's an example in the picture. you put the load in, it adapts and then it will stay at that level unless you increase the load again and then it will adapt again and then you increase. It's literally like that, it's a step, it's a platform to build on progressive overload principle.
So what is the principle for progressive overload?
In order for your body's muscles to grow performance, enhance strength or to increase, then the human body must be forced to adapt to a tension that is a higher demand than is ever experienced before.
So what does this mean exactly?
It means if you lift the same weights or do the same amount of reps that you've been doing for 10 years, 20 years, whatever it may be, nothing will ever happen and your body will never have to change or improve in any way. You only maintain your current state.
However, if you increase the demands that you're placing on your body by increasing the weight that you're lifting at the gym or changing the exercise that you're doing at home, making them harder and more difficult, so it shocks the body. Then it will increase demand on the body and the body will have to meet that demand. Then your body will have no other choice but to make necessary changes and improvements that will allow it to adapt to this environment and remain capable of performing the tasks.
3 principles for progressive overload
Don't keep lifting the same weight.
Don't keep performing the same exercises for the same amount of repetition.
Change your intensity.
Basically, you can't keep lifting the same weights and consistently keep doing the same thing and then expect changes. Don't keep performing the same exercises or the same amounts of repetition. You've got to change it. You've got to shock the body because if you keep doing the same thing for a sustained period of time your body will reach that level and then it will just maintain the muscle that it's got, the fat that you've got; maintain the form that you've got. so it will never be forced to improve.
So, by changing a workload or the intensity that you're working at you're then forcing your body to adapt and "adapt" is the keyword here guys. You want your body to adapt so then you can increase the workload again in order for it to notify you, to tell your body they need to survive.
So you need to tell your body to adapt to make improvements so they can keep up with the physical work. Throw it in the gym or at home. So, you're basically giving your body no other solution but to make adjustments and these changes, improvements and adaptation if that's what you want to call it, they'll come in the form of:
More muscles.
Increased strengths.
Enhanced performance.
More toned.
Less fat.
Or whatever your goal may be. That's what progressive overload will create for you as well.
So I'll give you an example of progressive overload being used here less let's pretend you can lift 20 kilos for example. Say you're doing a dumbbell bench press and you're lifting 20 kilos so you could be lifting that for three sets of eight reps.
Now if you continue to lift that same 20 kilos for those same three sets of eight reps for the next let's say 10 years. You don't see any new muscle or strength at all. Why?
Because there was no progressive overload. Your body's already adapted to this tension.
Once you start to reach that level, it's already aware you have exactly how much muscle you need and how much strength you need to be able to perform this task on a regular basis because you aren't increasing the demands being placed on your body.
You're not going to see your body change or make any further improvements. And that's because you're not implementing progressive overload. So, when you're planning your workouts,  when you're creating a diet, when you're creating new exercise to do, whatever it may be to do with working out, all you've got to do is apply this principle of progressive overload if you want to increase.
Once you've got to your level that's fine. You don't have to do any more. You can stay at the level. Once you've reached the perfect state of what you want your body to look like then you don't have to apply the progressive overload principle anymore.
But until you're at that level you must apply progressive overload principle else, you'll never see a progression. Hence the name progressive overloads. You need to provide your body with the stimuli that make it triggers it to grow in the way you want it to in order to reach your goals and get the outcome you want.
Kindly share and leave your comments below
Related posts:
Is it possible to lose weight and gain muscle at the same time
How to effectively build muscle and lose fat
The difference between hypertrophy and strength training
The importance of sleep as part of fitness routines
Keeping strong-minded to reach your fitness goals
Can you build muscles or lose fat through home workouts
Weight loss plans: 5 Working Steps to a Healthy Permanent Weight Loss
Always remember,