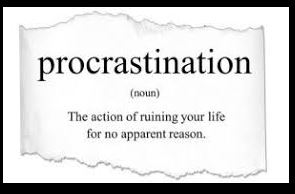 Today we are going to take a look at the dangers of procrastination and how it's indeed the thief of time.
Napoleon Hill
procrastination is the bad habit of putting off until the day after tomorrow what should have been done the day before yesterday
I simply put it as the act of consciously not doing what you have to do when you have to do it. Instead, you feel better postponing it further. We've all procrastinated one way or the other in what we do. It is something we should fight against for our good.
Let's say there are two people; your present self and your future self. Procrastination is satisfying your present self when your future self is supposed to be of higher importance. Delay gratification is very difficult but should be practised. It prevents you from becoming the best version of yourself.
Procrastination is like masturbation. At first, it feels good, but in the end, you are only screwing yourself
5 DEADLY EFFECTS OF PROCRASTINATION
1.      PROCRASTINATION LEADS TO LOSS OF TIME
Benjamin Franklin
you may delay, but time will not
The only constant in life is change. What do you think is changing exactly that makes change constant? You guessed right, it's time. There is a saying that time waits for no man.
Procrastinating does not make time pause until you are ready to do whatever you are procrastinating about. The worst thing about it is the moment it will later dawn on you that your stalling didn't change anything. So start now.
2.      PROCRASTINATION LEADS TO DIFFICULTY IN ATTAINING YOUR GOAL
Richard Miller
if you want to make an easy job seem mighty hard, just keep putting off doing it
We all have something we hope to do or achieve some time in the future be it what is of great importance to our life or not. Do you want to win a girl's heart? Be the top in your class? Have an attractive body? Startup a business?
These are all goals and it cannot be achieved if you keep on procrastinating. Reasons being that "someday is not a day of the week". Until we make it the 8th day of the week which is impossible, you will have difficulties attaining your goal.
Recommended: 20 unknown factors preventing you from achieving your goals
12 Strong Reasons Why People Don't Set Goals
3.      PROCRASTINATION DAMAGES YOUR REPUTATION
Abraham Lincoln
you cannot escape the responsibilities of tomorrow by evading it today
Reputation is the opinion that people, in general, have about you or how much respect or admiration you receive based on past behaviour or character. So tell me, what are you known for?
If the answer is procrastinating, you are slowly damaging your reputation which makes you unreliable and in turn kills your self-esteem slowly. Though you might not realize it early, sooner or later, you will find out that some things have become naturally difficult for you.
4.      PROCRASTINATING IS RISKY FOR ONE'S HEALTH
Arnold Bennet
procrastination is suicide on the instalment plan
Procrastination seems normal, but it leads to lots of things like stress when you feel you are running out of time which in turn causes anxiety and depression. Depression is a state you don't want to be. It is a mood disorder characterized by low mood, a feeling of sadness, a general loss of interest in things and a major cause of suicide. Try to do more working and less procrastinating. No time is better than now to start something.
must read: 12 GOOD HEALTHY HABITS THAT GUARANTEES YOU LONG LIFE
5.      PROCRASTINATING IS A PREREQUISITE TO FAILURE
Stephen King,
the scholar's greatest weakness: calling procrastination research
It is very difficult for one to succeed if procrastination is the order of the day. It leads to failure in all areas of life be it academics, career, etc. you did not fail because you procrastinated, you did because you kept on procrastinating till you forgot that you are procrastinating. Desist from all forms of procrastination and see yourself succeeding in things you never expected you will succeed at
FEW QUOTES AND FACTS ABOUT PROCRASTINATION
George C. Lorimer
putting off an easy thing makes it hard. Putting off a hard thing makes it impossible
Charles Kingsley
every duty which is bidden to wait for returns with seven fresh duties at its back
Mignon Mclaughlin
don't fool yourself, those important things can be put off till tomorrow, they can be put off forever, or not at all
Jimmy Lyons
tomorrow is the only day in the year that appears to a lazy man
Paulo Coelho
it was my fear of failure that first kept me from attempting the masterwork. Now I'm beginning what I could have started ten years ago. But I'm happy at least that I didn't wait twenty years

when there is a hill to climb, don't think that waiting will make it smaller
LASTLY, MY SPECIAL QUOTE ON PROCRASTINATION
the worst form of procrastination is reading a procrastination quote, feeling the quilt and not doing anything about it
Kindly share to family and friends and leave your comments below
Related
10 Dreadful Dangers Of Assumptions That Can Destroy Your Life
20 unknown factors preventing you from achieving your goals