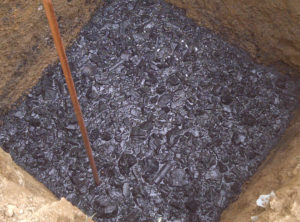 Why you must add industrial salt and charcoal during earthing
Hi guys. I'm going to be giving a brief explanation of why it is needed to add industrial salt and charcoal during earthing.
Firstly, let's discuss briefly on earthing.
What is earthing
Simply put, it is the connection of all appliances and pieces of equipment in a building to the general mass of the earth.
Its job is to carry excess current or surge due to short circuit current to the general mass of the earth.
Earthing is carried out with earthing rod or/and earthing mat. These rods and mats are conductors which pulls current through them.
Why add charcoal and salt
They help to reduce the earth resistance in order to allow for the passage of very high current in the time of  surge.
Charcoal is used to retain the moisture for a long duration because it is an adsorbent and salt is added to increase the conductivity both these products help to pass the leakage current through earth wire as early as possible to remove the chances of shock.
How salt and charcoal work to improve earthing resistance
Coal or Charcoal is made of carbon which is a good conductor that can minimize the earth resistant. The salt used as an electrolyte to form conductivity between earth electrode (generally GI pipe or plate) Coal and Earth with humidity. Sand has used to form porosity to cycle water & humidity around the mixture.
The whole purpose of providing earthing is to discharge the leakage current or fault current safely to the ground. Means better the conductivity of the soil or lesser its resistance. Adding charcoal and water in earthing pit decreases soil resistivity.
The layer of charcoal and salt helps to maintain low resistance for earth fault currents. Because of the ionic behaviour of salt and charcoal, they will maintain moisture content around the earth pit.
Whether it's a surge due to overcurrent or lightning, it's paramount to pour industrial salt and charcoal
Kindly share and leave your comments below
other searches:
quantity of salt and charcoal for earthing
quantity of salt and charcoal for plate earthing
how many kgs of salt and charcoal is used in pipe earthing
what is the amount of charcoal and salt needed for gi pipe earthing
how much charcoal and salt is used in earthing
charcoal for earthing price
how much salt and charcoal are required in plate earthing
list factors on which earth resistance depends
'https://www.prettylifestylez.com/effectively-earth-a-house-in-nigeria/